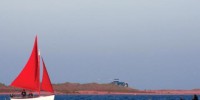 Norfolk Oyster Charter
Setting sail from Morston Creek, people will either be sailed by the skipper, or guided if they have experience at helming a boat.
Duration: 1½ hours
---
Experience Required: None

Once at the end of Morston Creek the boat can either be sailed towards the stunning Blakeney Point and the famous seal and tern colony and past the historic Old Lifeboat Station or towards the pretty little village of Blakeney, with Cley in the background.
There is the option to book a double or triple session and sail around the harbour before finding a quiet spot to drop anchor briefly for some drinks and nibbles. Whatever you choose your obliging skipper will be happy to assist in making this a special and memorable occasion for whoever sails with us.
Boat Details
The Norfolk Oyster will not fail to please land lovers or those salty sea dogs amongst us. She is a traditional and locally built 17ft day boat; beautifully designed, rugged, stable and spacious means she will wow your friends and family.
Drinks and Nibbles
If you would like to bring your own picnic please do feel free.  A little alcohol is acceptable but please do not bring any glass onto the boat.
Availability
Charters are offered every day. Please see possible sailing times on our Tides, Times & Weather page of this website.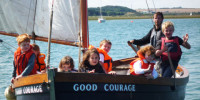 Kids adventure sails
Ahoy! All aboard me 'arties for some seafaring fun. If your daughter or son is four to six years old and you would like them to experience boating whilst gaining some confidence on the water and having a boat full of enjoyment then this is for them.
Duration: 4 hours
---
Experience Required: None

Your young wipper snapper will join our instructors in an adventure sail around Blakeney Harbour. They will cast their pirate eyes over the seals, wonder at the wild birds, play pirate games, hunt for treasure, crab for some Norfolk Gillies, steer the boat, pull the ropes, shout land ahoy and ship on the Horizon.
This is all about having fun afloat.
Boat Details
The children will sail in the stable, safe and rugged Norfolk Oyster.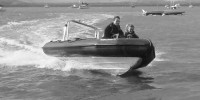 Powerboat Experience
Have one of our qualified skippers take guests for an exhilarating jaunt within Blakeney's beautiful Harbour aboard our RIB.
Duration: 1½ hours
---
Experience Required: None

We can take up to three passengers and they will be doing nearly all the driving for the period of time we are out on the water.
These experiences last for one and a half hours and are always great fun.